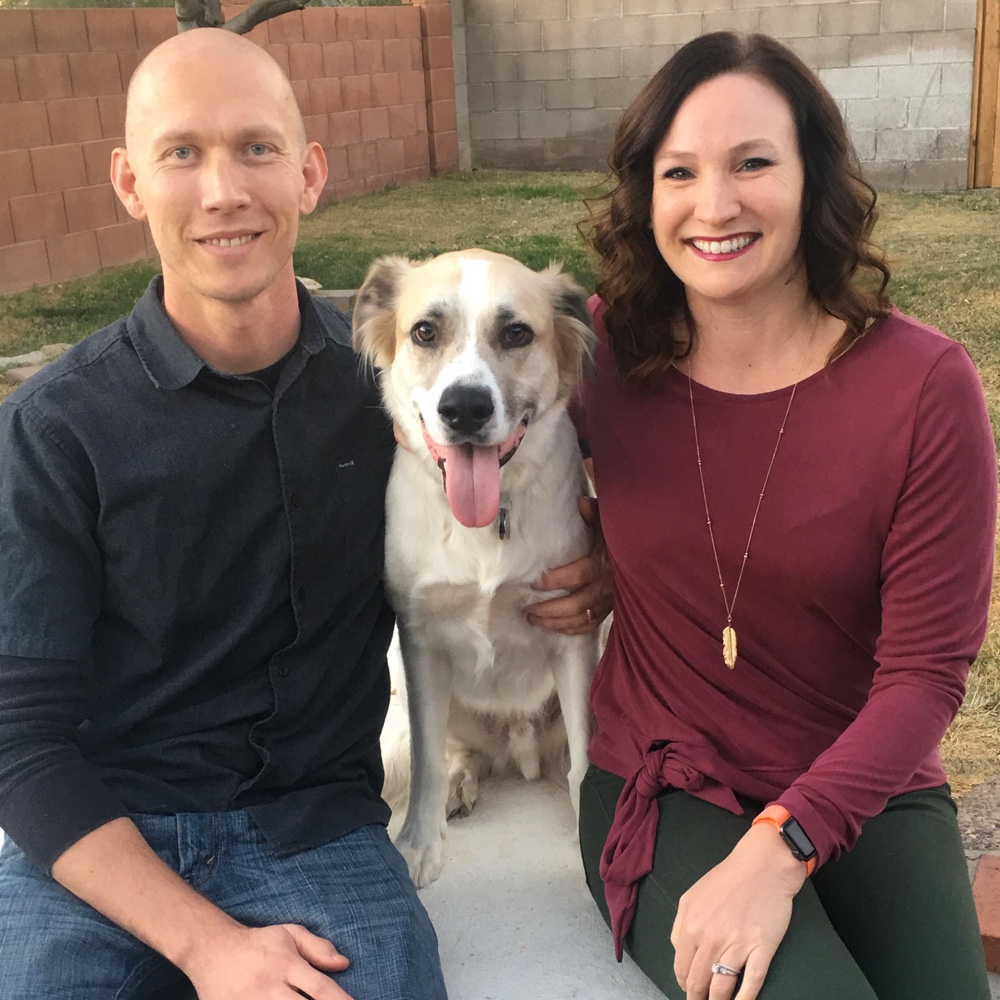 Family Facts
Region:

Southwest

Faith:

None

Education:

Graduate Degree
We have always taken a long time to hit our milestones. Chris went to college after being in the Army, and Shannon became a teacher later in life. We got married after being together for 9 years, waited to purchase a home with a yard so we could finally get our our amazing dog, Rufus. We always talked about adopting, so when the time came to start the process, we were both very excited to dive in! We love to make each other laugh, hike, travel, spend time with our family, and our animals. We look forward to sharing our life with a child, and like everything else we have done, we know it will be worth the wait.

Get To Know Us
Chris has worked in the restaurant industry for years, and is the chef of our household. He is a restaurant server by night and during the day, takes care of the animals (our dog Rufus, cats Alley and Lulu, and tortoise Jeff) and the house. Shannon has been a high school science teacher for 9 years. On our nights off together, we like to try new restaurants around town or hang at home. We are both very active, but enjoy our down time together. We spend our weekends attending sporting events, having family dinners, and being outdoors. We love to travel as much as we can during the summers and take weekend sight seeing and hiking trips around the beautiful southwest.

Why Adoption?
Even before we decided to try to have children, we always talked about adoption as a way to build our family. We were both open to it, and not attached to having biological children. We did try to have children for a little while, but decided that we'd rather try to commit our energy towards adoption instead. The most important thing is that we are parents together, and we know we can love any child. Shannon has a few cousins that were adopted and our family and friends are extremely excited for us and look forward to welcoming a new addition at any time!

Our Home & Community
We own a 3 bedroom home in a small neighborhood in the center of our town in southwest Arizona. Several of Shannon's fellow teachers live on our block, and many neighbors have young children of their own. One of our favorite things is that we live just across the street from a desert nature preserve, park, and a bike path along a river. Rufus loves going on walks and playing in these areas! Chris's parents, aunt, uncle, and cousins live nearby, and we usually see them on the weekends for family dinners and sporting events. His sister, brother in law and nephew visit frequently, and we adore spending time with them, watching our nephew grow. Shannon's parents, brother and sister in law live in California, and they come to visit often, we go to visit them for the holidays, or we take family trips together.

What We're All About
As we have been together for a long time, we know each other very well. We are different in personality, but balance each other out perfectly. Chris is very laid back, with the best sense of humor, and he makes people laugh all the time. Shannon is the planner, is constantly on the move, and is deeply passionate about her students. We are both very active, Shannon loves yoga and Crossfit, Chris loves to run with Rufus and box. Chris is very passionate about current events, sports, and video games. Shannon loves to read and is constantly working on a new project. Together, we enjoy exploring the world and experiencing new challenges. We took a three week road trip around the western United States a few summers ago and for our anniversaries, we usually go to a new location to go hiking. And of course, we both love Rufus.