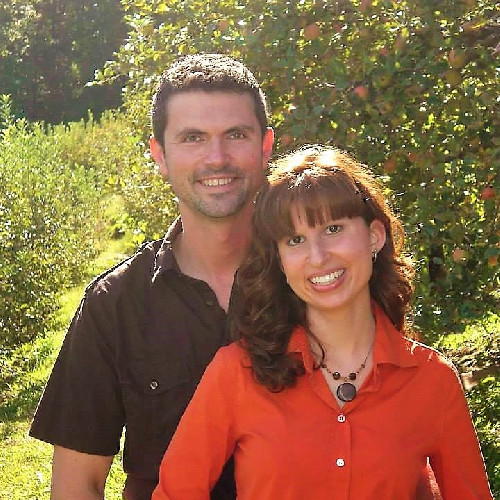 Family Facts
Region:

Southeast

Faith:

Christian

Education:

Some College
Hi, welcome to our profile! We are sure you have read dozens of these, so we want to thank you for taking the time to read one more.

We are Steve and Chelsea and we met on Christian Mingle 6 years ago and bonded quickly over mutual interests and same Christian values. We love to go camping, kayaking, fishing, and biking with our dog Rusty, who loves to tag along with us on all of our adventures! We are very active in our church and love participating in community events around town. We hope this profile gives you a glimpse of what our life looks like and the parents that we will strive to be for your child. Thanks again for your time and if you would like to know additional information about us, we would love for you to visit our website at
https://ouradoption.wixsite.com/ourgreatestadventure

Why Adoption?
We both have always had a heart for adoption. Its's something we have talked about since we began dating. We wanted to wait at least 3 years after marriage before we began the adoption process. We have been married now for over 4 years and are ready to grow our family through adoption. We love the quote, "Giving birth does not make her a mother. Placing a child for adoption does not make her less of one". You will always be his or her birthmother; that is something we could never take away from you. We want you to know that we will always honor you with our words and also with our actions. We both agreed early on that we would raise your child to know from a very early age that they have a birthmother who loves them and who made a selfless act that was in the best interest of her child. We will raise your child to know that they are a precious gift to our family. We promise that we will raise them to know that they are loved by God, by both of us, and also by their birth mother; a mother who trusted the two of us to love, nurture, and raise her child. 

Get To Know Us
Steve started a small business several years ago that has continued to grow over the years. Chelsea worked as a Dental Assistant for 10 years before she helped Steve start up his own company. Now, Chelsea is able to work from home as the Office Manager of their business and is so thankful that she can stay at home with the baby. We love to go on adventures together and love trying new restaurants. On the weekends our favorite thing to do is go for a bike ride or kayaking somewhere we haven't been before. When we are home we love to watch Friends episodes or catch up on This Is Us episodes. For vacations we love to travel and see new places... beach, mountains, we love it all! We often go tent camping with our dog, Rusty, and love finding new campgrounds to visit. Chelsea rescued Rusty 8 years ago. We believe he is about 9 years old now and is a Dachshund/Terrier mix...we may be biased, but we think he is the sweetest and cutest dog in the world! We both enjoy being active in our church...Steve plays the keyboard in the worship band every Sunday and he also helps out with the youth group on Sunday nights. Chelsea is involved with keeping the nursery on Sundays and also volunteers with many church events. We have both been fortunate to have been raised in Christian homes with loving Christian parents that we do not take for granted. Their guidance and support throughout the years helped establish our faith in Jesus and that is something we hope to instill in our little one as he or she grows up.

Our Home & Community
We live in a restored 1930's home on family property with plenty of acreage to run and play. Chelsea remodeled the house after her grandparents passed away. Chelsea grew up on family property and we are the 4th generation to live in this house and reside on the property. Her parents live next door (the house Chelsea grew up in). Both homes sit far away from the road and there is plenty of room for a little one to play outside. Our home has 3 bedrooms and a large bonus room upstairs that can be turned into a playroom when the child gets older. We both have so many fond memories of our childhood and we can't wait to create memories with our sweet little one. We are blessed to be part of a very family friendly community that offers a lot of family oriented activities. Our local schools offer a variety of sports, clubs, and other extracurricular activities for all ages. We live about 5 minutes away from schools, grocery stores, gas stations, banks, restaurants, and doctor's offices/medical clinics. We also have several hospitals which are approximately 20 minutes from our house. We are fortunate to be surrounded by so many friends and family who also have young children and we can't wait to watch them all grow up together. We may be biased, but we think it's the perfect place to raise a child.

What We're All About
We are all about God, family, adventures, and laughter! Steve is the youngest of 3 and Chelsea is an only child. We have two nephews who are 4 and 16. We love spending time with our family and we are both very close to our parents. We both come from loving homes and do not take for granted the value and security that we both felt growing up surrounded by unconditional love. Now we want to share those same feelings with a son or daughter. We look forward to the day we get to meet our sweet little one and can't wait until we add them to our adventures. Steve is excited to show him/her how to play music and go fishing. Chelsea is excited to read children's books to them as a nightly activity before he or she goes to bed. We know that this adoption will by far be our greatest adventure yet!