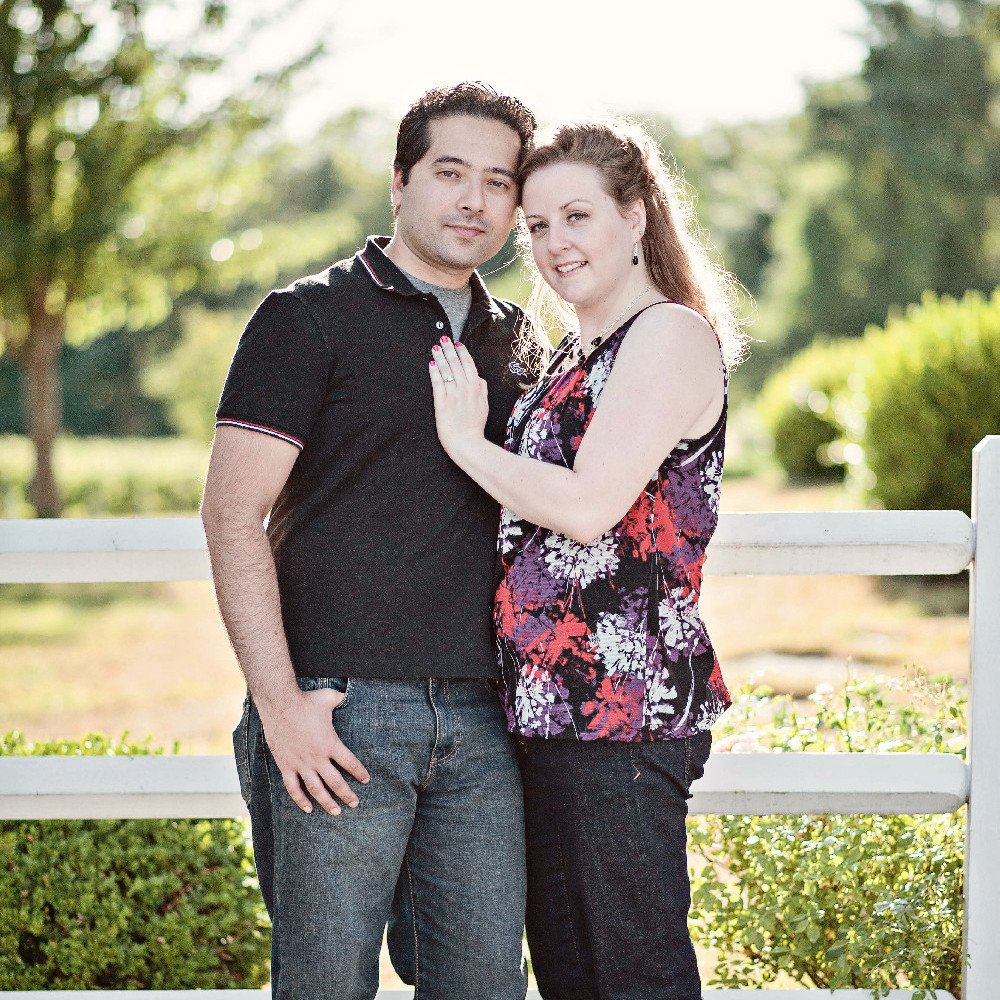 Family Facts
Region:

Northeast

Education:

Graduate Degree
We are a family centered couple. We enjoy spending time at Ali's parents house every few weeks, catching up with his parents, sister and Grandfather on a regular basis. We spend weekends at Katie's parents house every other month, and spend time with her sister and brother during Holidays. We wish nothing more than for our families to spend a lot of quality time with their grandchild and niece or nephew. This will be the first for both families and we are all very excited! While we spend a lot of time with family, we also revel in our time at home. We love to spend time working in our gardens and greenhouse on the weekends. We look forward to having a little one in the gardens with us, getting his or her hands dirty - getting excited about science and nature! When the weather is nice, we enjoy going hiking in our backyard as well as other nature trails nearby. We enjoy our lazy weekends, when we can just cuddle up on the couch with a good book with a fire roaring or indulge in a movie marathon following our traditional Sunday brunch. We also enjoy traveling and taking in new cultures and experiences. Having a child accompany us on our adventures will enrich our own experiences even more! Seeing a child take in all of the cultural sights and sounds for the first time will undoubtedly be a rewarding experience for us as parents.

Why Adoption?
We would like to thank you for giving us the opportunity to introduce ourselves! We are Katie and Ali. We are incredibly honored to have you take a glimpse into our lives and get to know us a little bit. Your decision to make an adoption plan is nothing short of inspiring and we are grateful that you are considering us as possible adoptive parents for your baby. We are in awe of your strength, bravery and selflessness as your walk through your adoption journey. We would love to take that journey with you and look forward to developing a relationship with you. Your baby will always be loved, encouraged and supported. The baby will be raised in a fun, loving, and nurturing environment full of enriching experiences. It is difficult to express in a short letter how much we have to offer as parents and how much love we have to give the baby. We hope our profile touches your heart and speaks to you as you consider potential parents. Above all, we wish you nothing but peace and happiness wherever your adoption journey takes you.

Get To Know Us
Katie is honestly my favorite person to be around. She makes me laugh constantly and she has such a wonderful sense of humor. We bounce off each other all the time. She has always been supportive of my sometimes crazy ideas, never being negative but instead having great insights into the things we want to do. She is an incredible listener, and while she may seem shy at first, she is definitely a bubbly and outgoing person. She has always been there for people when they need help or just a shoulder to cry on. She loves animals more than anyone I know. If she could spend all day with dogs and horses I know she would. Katie has wanted a child for a long time and I know she would make a great mother. She is such a fountain of love of care that can't help but spill over to those around her. Many couples often describe their significant other as their "other half" or their "better half." I would go a step farther and call Ali the yin to my yang. Our personalities compliment each other perfectly. Ali has been my best friend for the past 16 years. He is my rock. He can pick me up when I'm feeling down and he keeps me laughing all day long. He knows me inside and out. He has a wonderfully dry, sarcastic sense of humor and quick wit. He has an infectious laugh. He is definitely a fun-loving goof ball at heart, but also radiates calmness. Ali is extremely supportive, encouraging and excitable. He is conscientious, compassionate and sensitive. He is not afraid to take chances. He has an inquisitive nature and is always researching different topics and learning new things. He has a very large heart and will be an amazing father. His Daddy gene is in full swing for a while and I know he will instill his wonderful qualities in his child.

Our Home & Community
We live on a very quiet street in a neighborhood full of children of all ages. Our home is a two story colonial, with all of the bedrooms upstairs. There are a lot of windows and even sunroofs to let in as much light as we would like. We have a large deck that gives us a great view of our beautiful backyard and scenic woods. There are lots of scenic hiking trails only a few minutes from our house which we love going on. We moved in a little over a year ago and are still working on how we want to paint and design our house, but we are looking towards a more rural/cottage theme with a light blue and cream color scheme. We have a good size garden that Ali loves to spend time in. This summer we grew all kinds of fruits and vegetables such as tomatoes, cucumbers, and currants as well as all the lettuce we could ever want for the season. Our community is very close knit and they have been so incredibly welcoming and helpful to us. The schools here are excellent and only a few miles from our home. This is our cat, Clementine - also known as Clem, Mr. Fluffy Pants, and Flufferbutt. Clem is quite possibly the sweetest cat in the world. He does not have a mean bone in his body. He is half Maine Coon and half Tabby, so he is quite large at almost 20 pounds although we do have him on a diet. Clem's favorite pastimes include eating, sleeping, running around the house like a maniac and staring at birds. He enjoys singing the song of his people to us at 3 am when the spirit moves him. His favorite toy is his stuffed orange mouse. Meet the latest family addition, River. River is originally from Kentucky and he is very much the Southern gentleman. He is very sweet and affectionate, but can also be very naughty and mischievous. He is a young, Basset Hound mix - which is where the naughty comes in to play. River loves meeting new people and loves kids. His favorite pastimes include eating, snuggling and cuddles, playing with his squeaky pig (which no longer squeaks), chasing his big brother Clementine, going for long walks and sleeping.

What We're All About
Five-ish Fun Facts About Katie 1. I have an extensive collection of woolen earflap hats and I love wearing them out in public - much to Ali's dismay 2. Animals are drawn to me 3. I will avoid eating bananas so I can make delicious banana-nut-chocolate chip muffins instead 4. I love baking Irish Soda Bread loaves for Saint Patrick's Day 5. My love of chocolate knows no bounds 6. I love throwing surprise parties, but I hate having a surprise party thrown for me 7. I once taught myself how to write in calligraphy - just so I could present an "award" to the guest of honor during a surprise party thrown in his honor Five Fun Facts About Ali 1. The only animal that terrifies me is the centipede 2. I am a big fan of horror movies, and have seen most of them 3. I love singing pop songs loudly every morning, much to Katie's chagrin 4. My favorite ingredient to cook is the egg, it goes with everything! 5. I can quote almost every line from the film Aliens, I even named my car Ripley