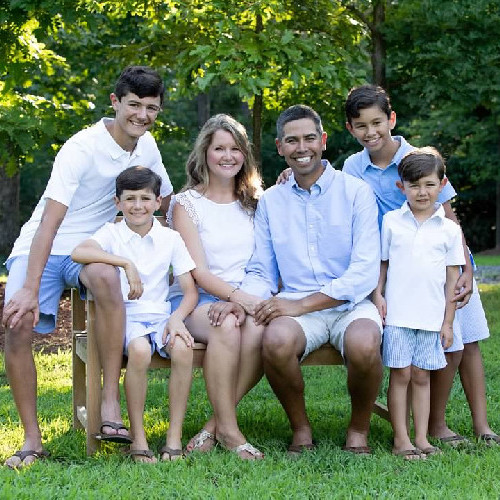 Family Facts
Children:

Four Children

Region:

Mid-Atlantic

Faith:

Christian

Education:

College Degree
We have known each other and been friends since elementary school. We started dating at the end of high school, went to the same college, and were engaged just a few months later. We recently celebrated 18 years of marriage and are looking forward to many more! We have settled back down in the town we grew up in. We are thrilled to live here as family is important to us and we feel blessed to live so close to both sides of our family.

Why Adoption?
For years now, we have been praying for the family that God would place into our lives. We've always dreamed of having a large family and have been blessed with 4 biological boys. After our doctor recommended we not have any more biological children, we realized God was leading us to consider adoption. We know that God has a perfect plan. It is our prayer that as you are learning more about our family that you will find peace with whether or not you see us as a good fit to be a forever family for your baby. We know that you have dreams for your precious baby and we do, too. All that you imagine and dream of for your baby, we hope to provide. We would offer a loving, supportive, Godly home and family. Your baby would truly know they are loved by you, God, and us. Ultimately, the choice to parent is yours and we want you to know that we will support you and your decision no matter what you decide...even if you change your mind!

Get To Know Us
Erin stays home with our children while Edgar owns his own business. Edgar's work flexibility is special as most days he is able to come home for a family lunch, which is a blessing in today's fast-paced life, and can take off anytime a need arises. As a family, we love going to the beach, camping, cheering on our favorite sports teams together, and traveling to new places to make memories. We love traveling to Disney World and a favorite family tradition is picking a theme for Halloween and dressing up as a family. Our community has grown to appreciate this tradition and everyone begins asking each summer if they can get a "clue" as to what the year's costumes might be. It's a fun surprise for everyone!

Our Home & Community
Our home is in a great community. We live on 5 acres with plenty of space for our kids to enjoy the outdoors. Erin's parents are just a short 10 minute walk through the woods. We live in walking distance to our church and Edgar's office is just over a mile from our home.

What We're All About
Faith and family are most important to us. We love being a part of our children's lives and helping them grow in their faith. 'Make each day count' is a motto we try to live by. We attempt to make traditions, holidays, birthdays, and vacations special as those memories are so important to us. We strive to be very purposeful with each day we are blessed with! Because of the love we have in our hearts, we know there is so much more love to give!