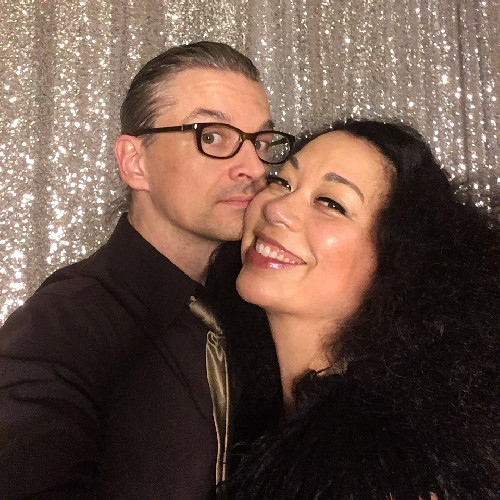 Family Facts
Region:

Northwest

Faith:

Other

Education:

Graduate Degree
When we met over 18 years ago, we didn't know how OUR BEAUTIFUL CONNECTION would unfold into long walks around the cities we lived in, or the many nights snuggling under covers and watching movies with our cat, or the MULTIPLE TRIPS we were lucky enough to take to Europe, Latin America, and around the US, or the DREAMY DAYS listening to or playing music while drawing, or the warm holidays we have enjoyed with OUR LOVING FAMILY AND FRIENDS.

Growing up we had different experiences on two different coasts, but PROFOUND LOVE was something shared in our families. Today this love is something we seed into each day, knowing that it grows the more we plant and nurture it. As a MIXED RACE, MULTICULTURAL couple (Alan is white and Kristina is mixed Korean and Slovakian but looks like she could be many ethnicities and races), we have enjoyed sharing our different perspectives with one another, knowing that they rest on a solid foundation of LOVE + KINDNESS.

Why Adoption?
Years ago, we began talking about a future in which we might have children and in those discussions, WE ALWAYS TALKED ABOUT ADOPTING A BABY. So, although it has taken us a long time to settle into one place for long enough to do this, we are now really excited to begin growing our family through this process, and look forward to EXPANDING OUR HEARTS even further with a child.

Get To Know Us
ALAN works remotely at his DREAM JOB MAKING MAPS for clients at a design firm in the SF Bay Area. Every other month he has to go to SF for work, but he always makes sure to FaceTime with Kristina when he's away to let her know about what yummy restaurant he has been to each time. Alan also runs a co-working space from our office in town that hosts a lot of interesting people who work in design, computer programming, and other businesses. When he is not working, you can find him running somewhere green and hilly near our house, playing guitar or piano, drawing cute animals for kids, or doing community service. KRISTINA IS AN ARTIST/WRITER who also runs a NON-PROFIT ARTS SPACE AND SMALL BOOKSHOP that she founded. She creates a lot of visionary public events for the community and also hosts ARTISTS, POETS, and others at our guest yurt in the woods. She loves the dialogues she can develop with these people and enjoys COOKING BIG MEALS for guests and Alan's family (who live next door) When she is not working on her nonprofit, she likes to travel the world to visit friends with Alan or go on long HIKES with him. When she feels lazy, they watch MOVIES next to the fire, under a piles of CATS (well, just two really)! She also loves to study and speak languages including Spanish, French, Italian, Albanian, Korean, Slovakian, and Arabic.

Our Home & Community
On the edge of the GREENEST FOREST… ...there sits a cozy cottage next to a small orchard of trees and bushes offering apples, plums, cherries, berries, and pears. Inside the house two cats (Noodles and Pua), keep warm sometimes by the woodstove, sometimes in beams of sun. It is here that we live, just a minute's walk to Alan's parents house and a 20 minute drive into the city, a university town on the ocean. Between us, there are many gardens that produce beautiful organic fruits and vegetables during the summer and fall, and all around there are many places to play or hike either in the yard or in the back woods. Inside there are also lots of BOOKS + ARTWORKS and many soft, quiet spaces to rest, think, and imagine. We also have dedicated space to draw, play the keyboards or guitar, and to read. We are so fortunate to have this little refuge, which supports us to LIVE HARMONIOUSLY with one another and the world. At our HOME, we love to entertain our friends and family by picking the organic fruits and vegetables in OUR GARDEN, cooking and eating together, and taking hikes in the forest and the nearby ocean and mountains. Our COMMUNITY is really important to us and we are involved in a lot of community groups dedicated to RCIAL EQUITY, DIVERSITY, INCLUSION as well as human rights. Although we live in a fairly white city, we have designed our network to be MULTIRACIAL, MULTICULTURAL, KIND, CREATIVE. We are both active in supporting groups working to bring forth a better and more beautiful world. WE do this also with our indigenous, black, Latinx, Asian, LGBTQ, deaf, and ESL friends.

What We're All About
We love to make the world a more BEAUTIFUL PLACE! This can happen in many ways. For us, this includes, making beautiful spaces through the design of our home and office, but it also means supporting community groups that work to make the world a better, more peaceful, more inclusive space. We see it also works through the creation of art, writing, music, food, and experiences. We are always looking to find the MAGIC IN EVERY DAY.