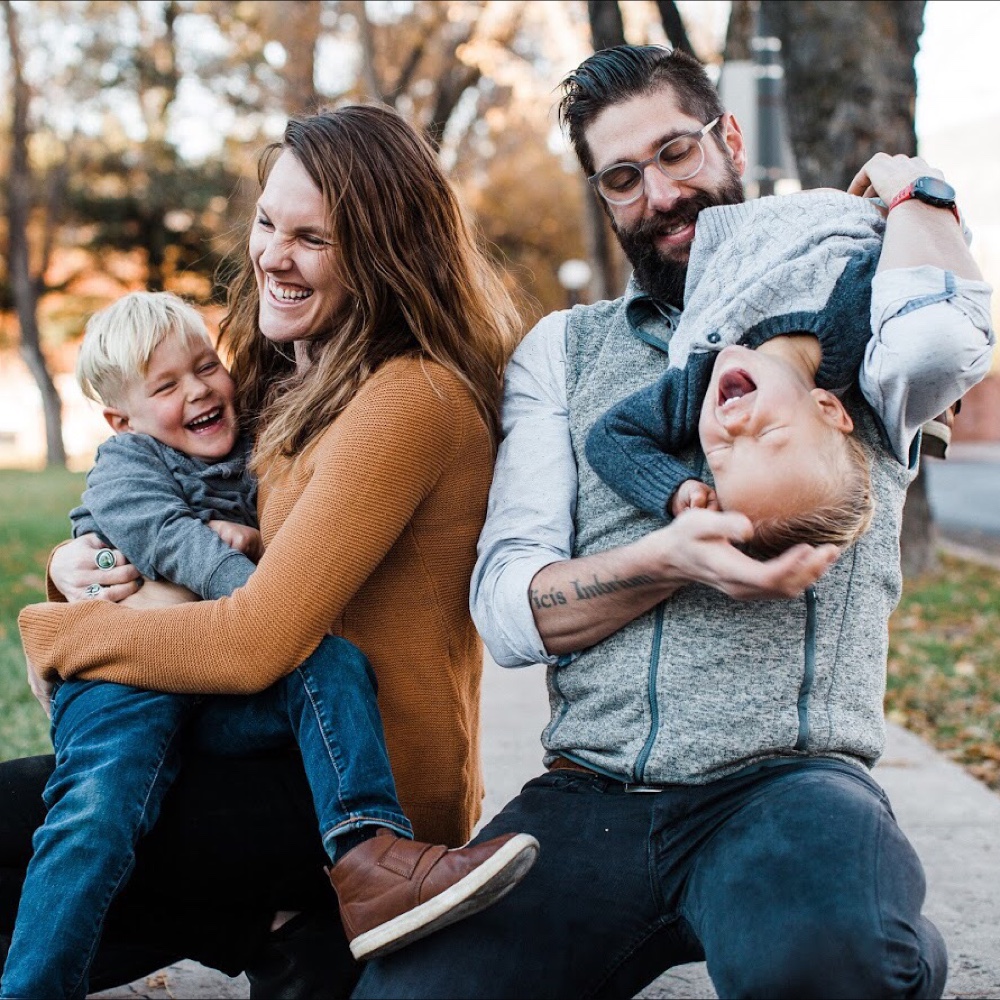 Family Facts
Children:

Two Children

Region:

Southwest

Faith:

Christian

Education:

Graduate Degree
We enjoy music, and silliness, and sharing good food with friends. We find joy in being together outside and playing in mud puddles. We love Jesus, and kindness, and asking for forgiveness when we hurt others. We practice yoga and have a giant yurt (a really, really big tent!) in our backyard. We spend every summer doing lots of camping and visiting National Parks. Most mornings you can find us reading books snuggled up on the couch, learning about the world, and most afternoons you can find us digging giant holes in the backyard.

Why Adoption?
Having biological children wasn't really the plan, because we knew we always wanted to adopt, but after several years of marriage, we got pregnant, TWICE! However, almost immediately after Cedar (our youngest) was born, we knew that we still wanted to adopt. So here we are, married for the last ten years, with two beautiful boys, hoping to see our family continue to grow.

Get To Know Us
James loves bike rides, art(see James' drawing above), baking bread, and all things creative. James loves his career as an assistant director of a program at a local university. James can often be found working on a project in the back yard, with two little "helpers" dumping out all his nails and screws. James has a soft spot for animals and is the one who has brought home our cat, dog, and chickens. James plays most instruments, but especially loves guitar, and many nights can be found having "jam sessions" with Elias and Cedar. Emily loves laughter, yummy food, writing, our boys, and spending time in the forest. A perfect day would be one spent outside, with no agenda, just soaking in nature with all her boys. Emily loves that she gets to spend most of her time "at home" (whether that be a romp in the forest, making tortillas at home, or building a rocket ship out of cardboard boxes in the backyard). Emily works two days each week as a therapist/social worker at a local non-profit, and when she is at work the boys stay with their auntie Anna, whom we do a childcare exchange with (on Mondays Emily watches Anna's two daughters, who live just a few blocks away, so lots of fun extended family time happens each week!).

Our Home & Community
We value the ethnic and cultural differences of our neighbors and friends. Emily grew up in Central Asia, and learning about and being a part of other cultures and experiences is important to us. We have an incredible, supportive community, and there is often not a day in our week when we are not interacting with or being a part of the lives of those we love in our community. Much of our extended family now lives in Arizona, so we love to spend time having all the cousins get together (there are 12 cousins in AZ, two of whom are also adopted!).

What We're All About
Thank you for reading this. We don't know how, in the space of a few pages, we can convey to you how our family might be right for your child. What we do know is the significance of what you are considering is profound, and our family deeply respects the bravery and strength that have brought you here. We believe in gentle parenting, and our desire is for all of our children to grow into kind, loving humans who have compassion for themselves and others. Our desire would be that we could enter into an open adoption, where you could continue to be a part of your child's story as he or she journeys through life.