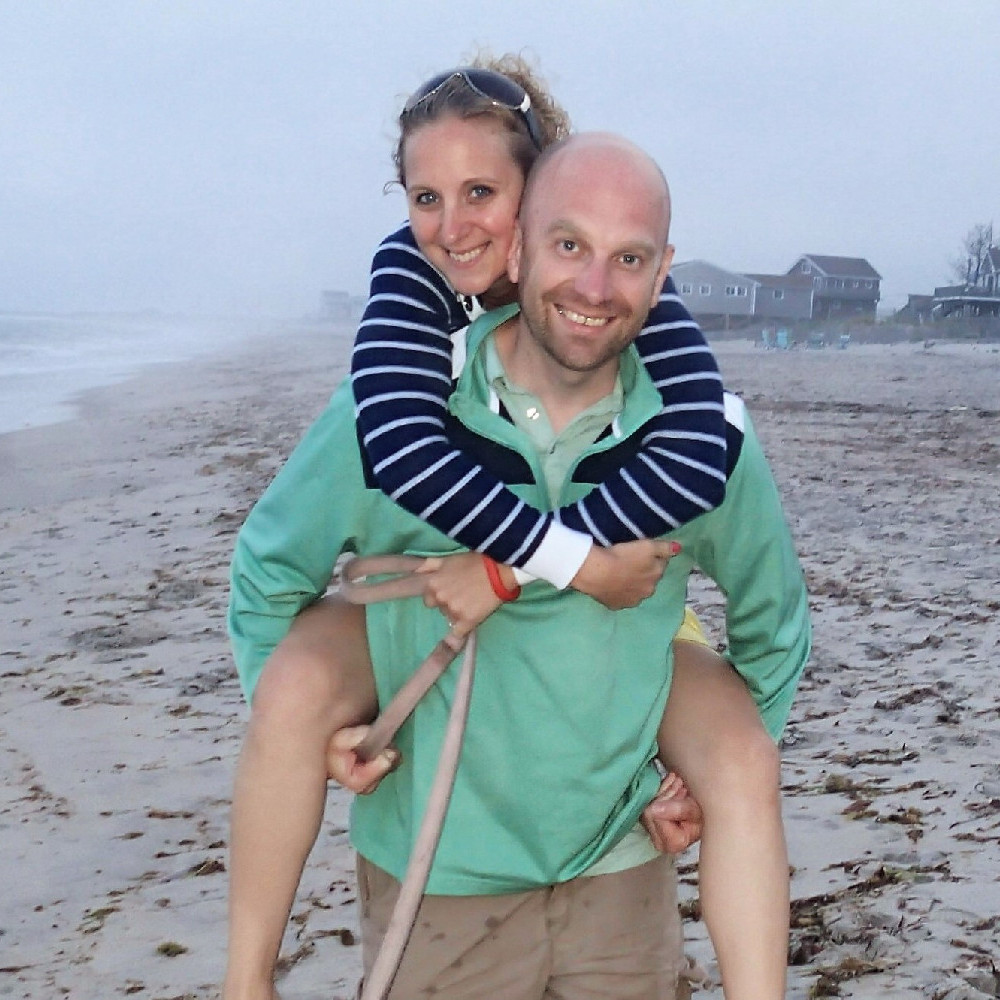 Family Facts
Region:

Midwest

Faith:

Christian

Education:

Graduate Degree
Thank you so much for checking out our profile! We are Marci and Ian and we are honored to be considered as a potential part of your family. When we sat down to write this with our dog at our feet, the one thing that kept popping into our heads is how much we admire your courageous and selfless decision to consider adoption. For years it has been our greatest wish to become parents. We are very much looking forward to giving our unconditional love to a child, providing them with a happy and fun childhood, while also equipping them with the skills they need for adult life.

We have been married for over four years, have strong Christian values, and are committed to raising our child to reflect these. A bit like this website, our story began with a CLICK! We met through online dating. Ian's witty grin and Marci's beautiful, fun smile is what made us move forward and for us, it worked! Those profile pictures proved to be true as Ian is always there with a quick joke and Marci, with her high energy, finds the fun in every situation. Our first date took place on a beautiful summer's evening at a local restaurant near where we were both living in New England. We were only supposed to be there for an hour and we ended up talking the night away. We quickly discovered that we were meant to be together!

Why Adoption?
We made the move to the Mid-West over five years ago and got married soon after. We always imagined that children would quickly follow. When we couldn't become pregnant, the enthusiasm for having a family did not go away. We knew in our hearts, adoption was for us. When we shared our planned adoption journey with our families, they were overwhelmed with joy and happiness for us. We are very excited about sharing in our love for exploring, taking walks in the park with our dog, playing in the big blue neighborhood pool, and enjoying everything that life has to offer. Once we have a child, we are hopeful that we will also be able to build a strong relationship with their birth family as well, whether that be through texts, calls, pictures, videos, FaceTime/Skype and/or visits.

Get To Know Us
* In our daily lives, Ian is a senior manager at a major corporation. Ian has been with the same company for his entire career, having started as an apprentice when he was still a teenager. *Ian is originally from England but always knew he would end up living in America. Before starting work, he thought that dream would come true by accepting a scholarship to play tennis. However, life had different plans for him as he went on to become a successful apprentice and climbed the corporate ladder. * Eight years ago, the dream became a reality as he was offered a promotion that allowed him to relocate permanently. The great thing about his job is that it allows him to work from home while also providing opportunities to travel back to the U.K. * Marci has also been known to take advantage of these trips, most recently traveling with Ian over Easter – spending time with his family while also getting an opportunity to visit Ireland and see where her mom's family originated from over 100 years ago. * Marci is a very successful swimming coach, having coached at all levels. She started her career as a teacher which explains her amazing ability to relate to children and young adults.

Our Home & Community
When we moved to the mid-west, we decided to build a house in a very safe and family friendly neighborhood, just 15 minutes south of a major city. For us it was perfect, we had the excitement of the big city just north and the fun, easy going life of the suburbs right at our feet. We have a large, fenced in backyard with a community playground and pool literally 10 yards from our house. Having completed some of the work himself, Ian is particularly proud of our basement, which was finished earlier this year. It now doubles as an office, a cinema room, and a home gym allowing us to work, play and keep fit all in one place! There is no doubt that the sun room is Marci's favorite part of the house. In the fall, spring and summer we spend most of our spare time out there. With our swinging hammock and fireplace for when it gets chilly, it is the ultimate place for relaxation. We love the location of where we live as the highly rated elementary and middle schools are just across the road and we have easy access to the highway (making it very quick to get to any of the local attractions). Our family is spread over two continents, but we keep in close contact with them. We facetime Ian's family every week. The best part is when his nephews pop in and out of the camera with their silly faces. We also text and send pictures throughout the week, so we get to be a part of the boys lives as they grow up. We call and text Marci's family every week as well. We can make more visits to her family as they are closer and we enjoy holidays and birthday parties with all her relatives. We also have a close network of nearby friends that we like to call FRAMILY! Thanks to Marci's swim team, she is an integral part of the community - we already have a growing list of swimmers (and their parents) eager to help out as soon as we welcome our first child into our home.

What We're All About
We are both former athletes and LOVE sports. We enjoy football Sundays with friends and Ian always watches his favorite soccer team each week (they are not very good, but he is loyal!). We are passionate about giving back to the community. One of our favorite traditions is at Thanksgiving. We start our day by delivering meals to those who may be on their own during the holidays (or would otherwise not get a meal). It is both a rewarding and fun morning. The people are grateful for the food, but what they really appreciate is being able to spend some time chatting with us. We love it as they often have fascinating stories to tell! This is a tradition that we will continue with our children as each year passes. For the past three years Marci has also run a Special Olympics swim meet that Ian has helped with. It is a real team effort, with Ian now trained to operate the timing computer (we won't mention the first event where he hit the wrong button and everyone set world-record times!) and all of Marci's swimmers helping out. It is always great seeing how happy the athletes are when they got their medals. Whenever we can, we love to cook together. Grilling is our thing and in addition to pork, chicken and fish, we can grill a mean pizza! Cooking together gives us time to debrief from our day and connect with each other and we can't wait to have a junior chef to join in on the fun! It is also typical for our neighbors to see us out walking our dog (Daisy) together. Her evening stroll as the sun sets into the big, beautiful Midwestern sky (one of the best parts of being in the mid-west) is one of her favorite activities - she wags her tail with a big smile, sniffing what went on in the world during the day. Just before bed you can find us cozied up on the couch either catching up on a show or reading our favorite books or articles and we are very excited to add a tradition of snuggle time and books with our child. We want to thank you again, from the bottom of our hearts, for taking some time to get to know us!