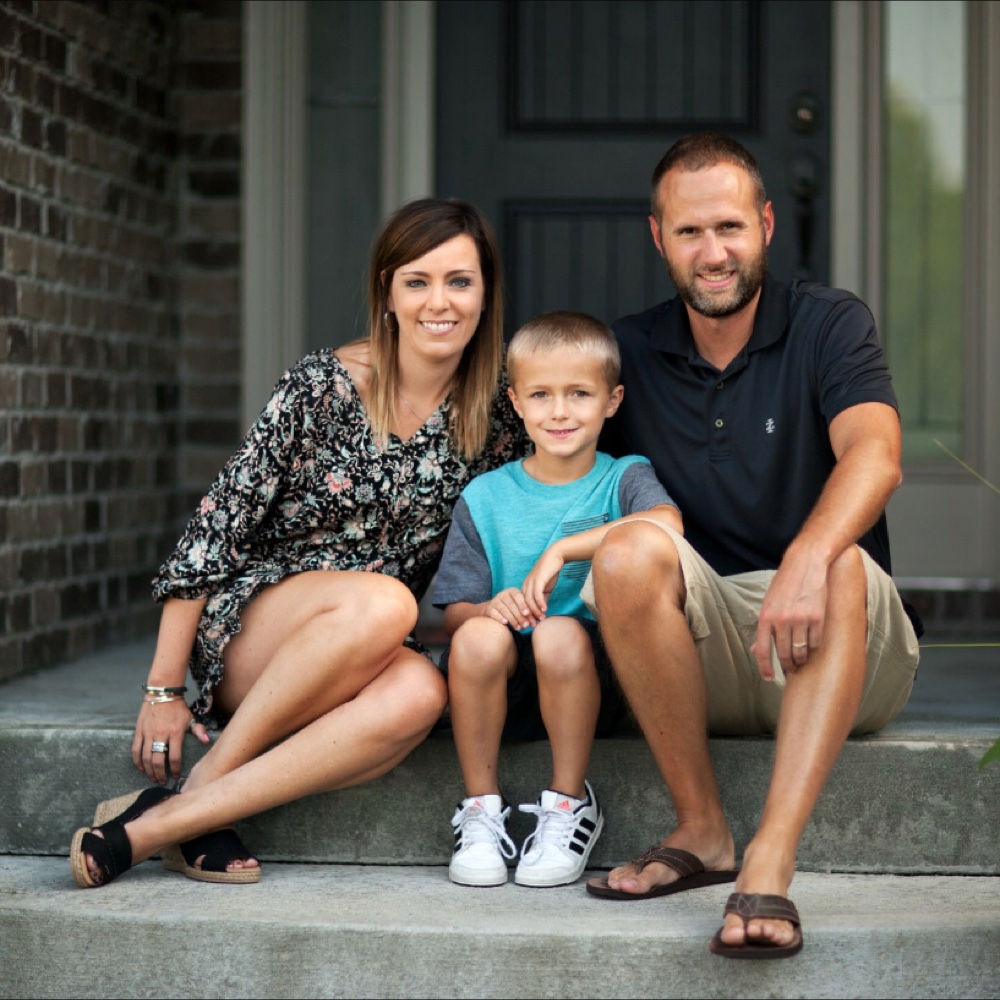 Family Facts
Children:

One Child

Region:

Midwest

Faith:

Christian

Education:

College Degree
Thank you so much for giving us this opportunity to introduce ourselves and tell you about our family. We are Jason and Kate and we are grateful that you are considering us in an adoption plan for your child. We are already parents to one son and are very excited to add to our family and give him a sibling. We promise that our home will be filled with love and laughter and that you will always have a place in our hearts and family. We would love to talk to you about your hopes and dreams for your child's future.

We live in a country setting outside of a large city. Both of our families live within a 2-hour drive from our home. We vacation with our families and we spend holidays with them. They are very much a part of our daily lives. The importance of family became even clearer once we had Cooper. He loves all of his extended family, including three sets of grandparents, aunts, uncles and cousins.

We think our greatest responsibility as parents is for our children to know that they are loved by us and to know the importance of a family foundation. Even though we both work outside the home and life sometimes gets busy, we always make time for family.


Our Home & Community
A couple years ago we built our forever home. It's on the outskirts of a large city on a quiet cul-de-sac. We have corn fields and cows within walking distance from our house and a large backyard with a swing set. Our house is a ranch style house with a finished basement. Our neighborhood is small and we have become very close friends with our neighbors. There are a couple of neighbors that have young children and they often come over to play with Cooper. We are within 15 minutes of the school system that Cooper attends. It is a very well respected school system with college credit opportunities in the high school classes. We have a local community pool within 1O minutes of our house and frequent it often in the summertime. Having a desire to travel, Jason and I recently purchased a camper that we take out to different state parks and campgrounds. Our favorite is Brown County State Park. We like walking the trails and love to ride our bikes around the park and teach Cooper about nature. We also enjoy the downtime that comes with sitting by the camp fire.

What We're All About
"Kate takes care of us and keeps us all organized. She loves planning fun trips for us and ways to make new memories. Kate is very involved in Cooper's life. Watching her with Cooper makes me proud to say she is my wife. I am very thankful every day that we met and could not imagine a day without her." "Jason is an incredible husband and father. He is great at making sure we have what we need and beyond. I feel so fortunate to be married to Jason! We have been through a lot in the last 7 years. Each stressful event that has happened along the way our love for each other has stayed strong and I can't imagine life without Jason!" We always try and go out for a date night at least once a month doing something simple like going out to dinner and never have to beg the grandparents to keep Cooper as they are all jumping at the chance to spend time with their grandchildren. We both like Indy car racing and go as a family to Indianapolis 500 Pole Day every year so that Cooper can see the fast cars. Then on race day, we go with a small group of friends, just adults, to the track to watch the race.

Get To Know Us
Kate and I met 14 years ago when we were both out with separate groups of friends. Her smile and caring for others is what drew me to her. We dated for three years before getting married and during that time I learned that our family backgrounds and upbringings were very much the same. I knew that my values and thoughts on the future and Kate's were very similar and that helped me to realize she was the one. Jason: I am a practical person. I love doing things with Cooper whether it be helping him with his homework, working in the garage, or playing in the backyard. One of the things I like to do is build things out of wood. I love working on projects around the house and always like to stay busy. Kate says I can fix almost anything and am definitely a handyman. I have been a basketball fan since childhood and I look forward to teaching my children the skills of basketball. Kate: I love spending time with Cooper. We like to be silly or sometimes just snuggle up on the couch to watch movies or cooking shows together. I have a strong desire to travel and be adventurous. I had a wonder opportunity in college to study abroad and lived a short time in Europe. I like to entertain and plan family events and holiday gatherings with our families. I try to prepare meals daily so that we can eat as a family and discuss our day. Cooper is full of life and energy! He is a good balance of silliness and compassion and cares about people's feelings. Cooper likes to play t- ball, go camping, play with Legos, color, look at books, ride his 4Wheeler, and loves spending time with his grandparents, uncles and cousins! He has very close friends that live next door and plays with them in the backyard often on his swing set. He loves to snuggle and watch movies and helps out any chance he can get around the house. He is very excited to be a big brother! We try to take a yearly trip somewhere as a family. The last three years we have gone to Gatlinburg and hiked the trails, shopped and played putt-putt golf. Jason's Dad's side of the family started going on vacation together over 20 years ago every other year. The family has grown to over 35 of us, (adults and kids), spending a week together in the Outer Banks in a vacation home. We swim, go to the ocean, eat lots of seafood and spend quality time together.

Why Adoption?
Since Cooper turned 2 we have been trying to give him a sibling. We tried on our own and also went through several rounds of both IUI and IVF. Two of the IVF rounds resulted in positive pregnancies only to end in miscarriages in the first trimester. After going through the heartbreaks and the emotional rollercoaster we decided to take a break and focus on Cooper and our family. We have been pretty open about our struggles with our families and they have all been very supportive. During our break, Jason's cousin and her husband adopted a beautiful African American little boy. Seeing the joy on their faces and seeing how their son was welcomed into the family, we decided that adoption was how we wanted to grow our family as well and are open to the opportunity of adopting outside of our race.