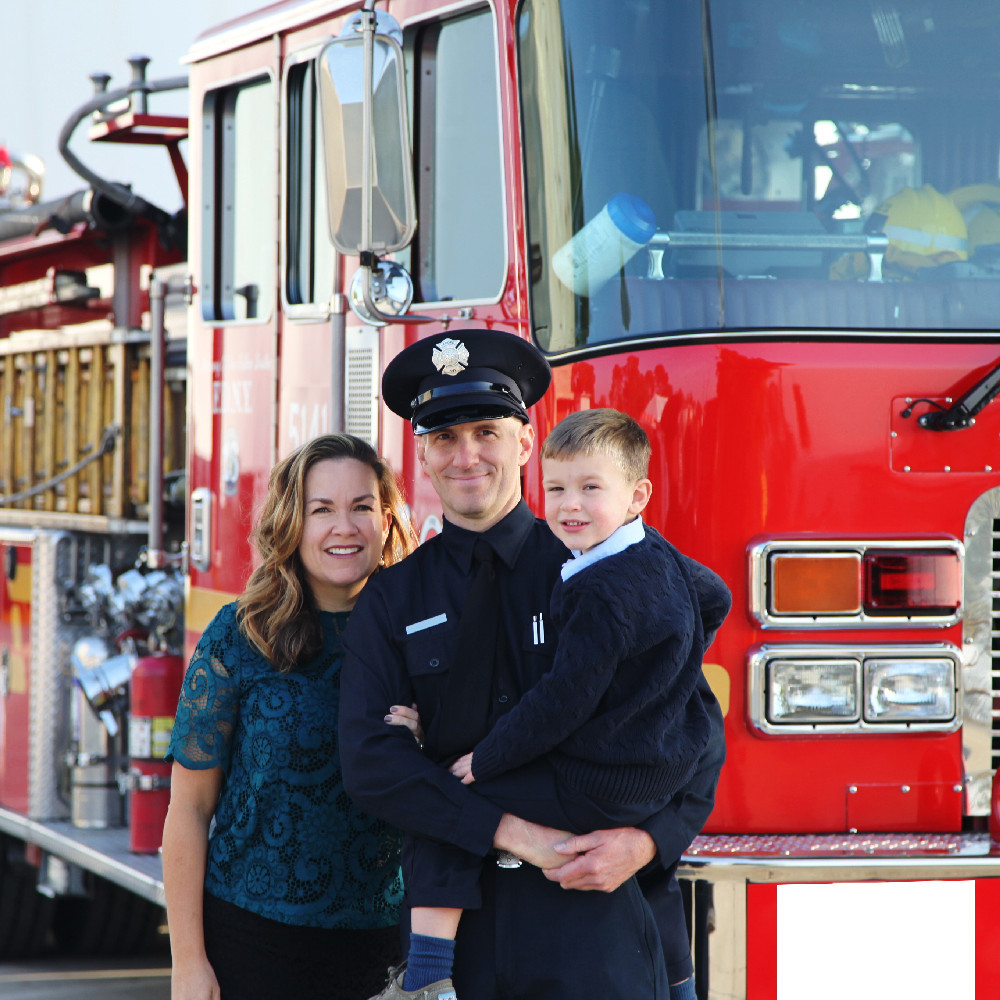 Family Facts
Children:

One Child

Region:

West

Faith:

Christian

Education:

Graduate Degree
We are a loving and affectionate family who has fun together and finds great joy in being together. On a daily basis, we cook and eat meals as a family, exercise and play sports or board games together, and read together. We're active in our community and seek out family friendly events such as movies in the park, music festivals, surfing contests, and farmers' markets. Some of our favorite adventures include going to Legoland, SeaWorld, the beach, the county fair, and the zoo. We frequently go trail running or biking at an expansive nature preserve or lake, both located close to home. Some of our all-time favorite evening activities include having a bonfire at the beach for s'mores or going to the drive-in movie theater. We love to be out enjoying nature by hiking or camping and we absolutely love animals. But all in all, our greatest joy is our family.

Why Adoption?
We have long thought of adoption as a miraculous way to build a family and are hopeful that we will be able to grow our family through adoption. We have several friends and loved ones who are adopted, have placed a child through adoption, or who have adopted children. We've witnessed how miraculous adoption can be and feel it's the ultimate gift of love. God blessed us with a son in 2014, but thereafter we had difficulty maintaining multiple pregnancies. We as a family have much more unconditional love in our hearts to offer another child and we feel drawn to adoption.

Get To Know Us
We met in 2005 while separately attending a professional soccer game in Washington, DC, where we both lived at that time. We got married in the fall of 2007 and our adventure began!---- Erik is extremely kind, generous, and patient. He is sensitive to others' needs and will stop to help anyone. As I've observed Erik as a father, I see that it's his greatest role. Erik loves spending quality time with family. He works hard to provide for us, but never lets us feel that we are anything but number one. Erik's interests include hiking, camping, and enjoying the great outdoors. In the home, Erik is a Renaissance man as he can repair nearly anything and helps with all home duties as an equal partner. Erik's orientation toward service, as well as his resilience and strength are evident in his career choice as a Firefighter.----When I first met Cheryl, I loved to hear her laugh. She loves to laugh and joke around. Cheryl has an adventurous spirit but is hard-working. I admire her drive and tenacity in achieving goals. As a wife and mother, Cheryl is loving and dedicated. She is very focused on creating fun, educational experiences for our family. Cheryl's interests include travel and learning about other cultures, trying new recipes, baking, swimming, and going to the beach. Both Cheryl and I speak and understand Spanish and have used this skill when traveling outside of the United States. Cheryl has enjoyed a long career as a Crime Analyst and now, as a Manager of Crime Analysts for a law enforcement agency.---- Our son is an active, curious and kind four-year-old. He is full of personality and loves to learn new things. He loves to play outside, ride his bike, swim, go to Legoland and the beach, bake treats with his mom, and help his dad in the yard. He currently attends pre-kindergarten and formal lessons in hip hop, karate, and swimming. On a monthly basis, Mommy and son attend a cartooning class and have learned to draw characters such as the Avengers, Dogman, and Chewbacca. Our son wants nothing more than to share his life with a sibling. He understands that we are seeking to adopt and he talks frequently about all the things he will teach a little brother or sister.---- We have an 11 year old Boston Terrier. He is playful and cuddly and loves to be with his family. He's good with children and is a favorite in our neighborhood among kids, adults, and other dogs. Our pup often serves as Cheryl's running partner and is a good watchdog as he makes sure to alert us when anyone is approaching our home. (Usually, he barks and then runs to grab a toy, evidently believing any visitor is coming to play with him.)

Our Home & Community
We live in a beautiful area of Southern California about seven miles from the closest beach. Our home is in a planned community that sits up on a hill and has scenic views of a nature preserve that backs up to our home. There are several hiking, biking, and horse trails there that we routinely explore. Our cul-de-sac is full of young children who play together often. We live in a two-story home and most often congregate in the kitchen and adjoining family room or in our bonus theater room. Our home is open and bright with tall ceilings and lots of windows. We have a fenced-in yard and a patio with a built-in eating bar and grill. Our community features a pool and tennis courts that we enjoy throughout the year with our neighborhood friends.

What We're All About
We are big on family and have some major family goals. As parents, we seek to raise our children with Christian values. Ultimately, we want our children to be kind, honest, confident, happy, and hard-working. We are a patriotic family and feel blessed to live in this country and want our children to know how blessed we are. We both enjoyed idyllic childhoods with loving families and want to provide the same for our children. We are committed to providing emotional and educational support for our children throughout their lives. We want to support them in obtaining college and advanced degrees if that is their desire. Cheryl holds an MBA and a Master of International Studies degree and Erik holds a Bachelor's degree in Business Administration. We feel it's important that our children have educational opportunities that will help open doors for them when they become adults. As a couple, our marriage is strong and is built upon love and mutual support of and gratitude for each other. We appreciate you learning about our family, and we hope to have the opportunity to get to know you if that's your desire! God bless you.