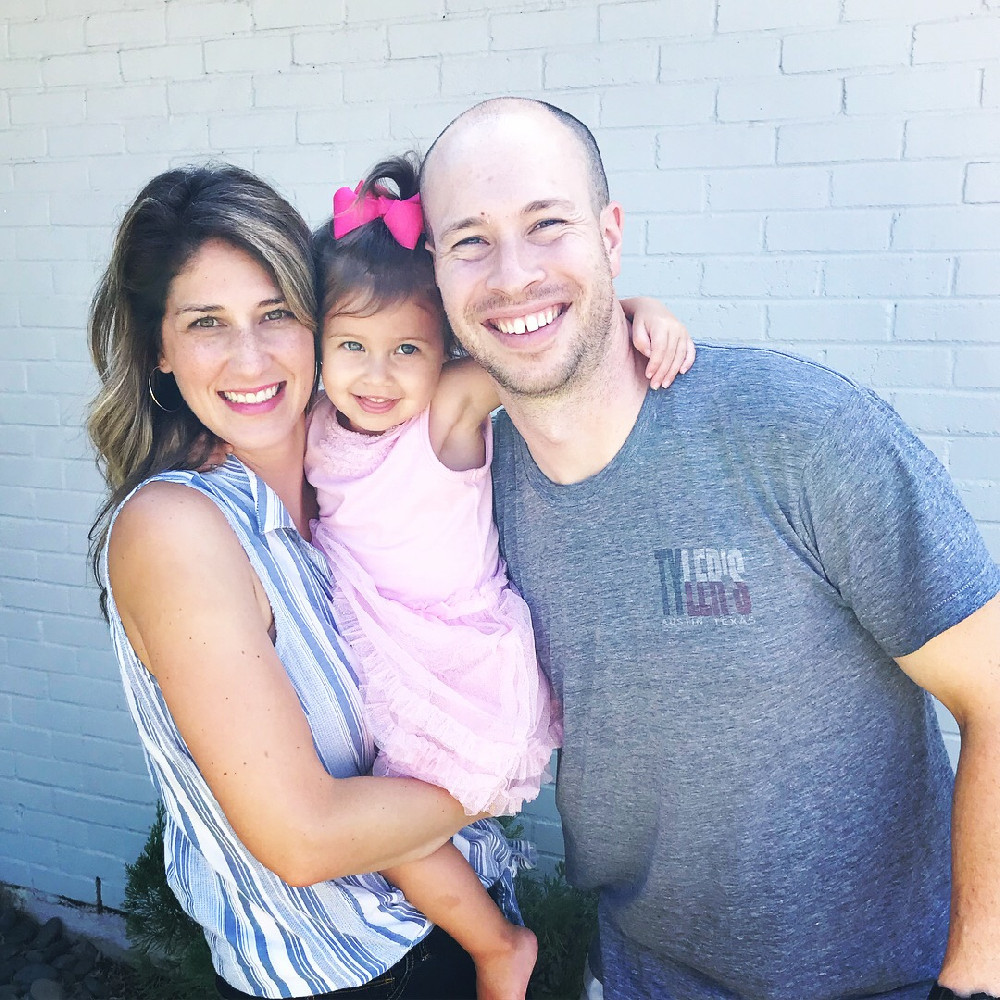 Family Facts
Children:

One Child

Region:

Southwest

Faith:

Christian

Education:

Graduate Degree
We are college sweethearts! We met during our first history class at school and have been together ever since. We dated all through college, got engaged our senior year, and got married after graduation.

We just want to say thank you for taking the time to look through our profile. Your bravery to make an adoption plan for your baby is inspiring, and we are grateful for your courage. We would love to share our family with you through this profile, but beyond that we pray that you are cherished and supported for who you are and for the love that you have already shown to your child.

As you read through our profile, please know that we are by no means a perfect family. We make mistakes on a daily basis, but we strive to create a home where we love, forgive, and encourage one another the way that God does for us.

We hope that as you read through our profile you will have a peace about the decision you are making. The opportunity to be a part of your story is precious to us. There is no way to describe how thankful we are for you.

Why Adoption?
Adoption has always been on our hearts individually, and we began to talk about the possibility of adopting even while we were dating. We believe that God has adopted us into his family through the love of his son, Jesus Christ, and we want to reflect that same love. As our daughter was turning into a toddler, we started to seriously discuss adoption again. After diving into the process, we completely fell in love with the hope and beauty of adoption. There is no better way to add to our family, and we know that this is a longing God had placed in our hearts.

Get To Know Us
After we got married, we spent some sweet early years of marriage together. We moved to Texas, lived in a little apartment, traveled to new places, and tried to figure out how to live with each other! It's a blessing to look back and see how much we've grown because of the other person in our lives. It's so hard to write a small page about Ben. I could spend many pages describing his amazing character. To sum it up, he is one of the most hard working, devoted and patient men I know. His hard work shows up in every aspect of his life. Whether he is leading a project at work, taking care of Helen or working on something for our house, he gives it his all. It amazes me how he can work all day and still have energy when he gets home to serve not only Helen and me, but also our friends and family. After work, He can usually be found playing with Helen while I finish up dinner or leading our homegroup in Bible study. His devotion to our faith is one of my favorite things about him. Ben continually encourages me to be not only a better person, but also a better follower of Christ. He leads our family so well. His patience with Helen (and me) is remarkable, and it shows in their relationship. She adores her daddy. Helen is always looking for him every morning when she wakes up. He is also a devoted husband, making sure to spend time with me and look for ways to serve our family. I could not ask for a better partner to do life with and I am confident that he will continue to lead our family well as we add a new addition! Kadee is my best friend. Life is so much more full because I'm able to share it with her. She's silly and sweet, and always down-to-earth. I feel encouraged as a husband because of how she supports me and takes care of our family. Whether we travel together or just get some late night fast food, she makes our time fun and memorable. She is great at getting our family together, and values time with each other much more than materials. Kadee is also an incredible mom. It has been such a joy to see the pretty girl I met in college grow into a mother who cares for the physical, emotional and spiritual needs of our daughter. Helen loves Kadee, and the two of them are peas in a pod. They both keep me very busy! Kadee constantly pours out her time and energy for others. She has so many close friends who know they can depend on Kadee in a time of need. Her servant's heart and her graciousness continue to be a transforming reflection of Jesus' love for me. I can't wait to see Kadee be able to pour out her heart for our next child! Helen is our sweet and sassy little girl. She is a people-person, and loves being around our family and friends. She's very active and would spend all day outside in the backyard or at the park if she could. Dance parties and playing chase are big parts of our daily routine. Her outspoken nature always keeps us entertained. Whether she is excited or upset, her expression is always on volume ten! Helen is also tenderhearted. She cares for her baby dolls like they are her very own, and she's obsessed with any newborn baby she meets. We know she'll make a wonderful big sister!

Our Home & Community
We bought a house a few years later and had fun trying to fix it up. Not long after, we got pregnant and welcomed our daughter Helen into our family. Life suddenly became much more difficult, but so much more rich! Our hearts grew to accommodate this new-found love in our lives. She has been a precious gift to us, and we are creating a home where she is loved and cared for. We live in a quiet little neighborhood, full of young families and retired people. We've lived here for over three years, and our neighbors have become some of our great friends. On any given day, you can find us outside in the backyard, enjoying the nearby park, or relaxing the evening away on our deck. Our homegroup from Church meets regularly at our house, and we love to host meals for family and friends. We are thankful for this space we call home! We would not be able to adopt without the love and support from our friends and church family. We serve as leaders for a small bible study group that meets weekly in our home. Kadee also serves by doing childcare at our church. Since Kadee is a stay at home mom, she is able to have many friends that she meets with throughout the week. They love to get together for meet-ups at their houses, the park, or even the zoo! Doing life with these people on a daily basis is a joy. Their support and feedback have been vital to our ability to grow as parents. We are so thankful for them. They all share in our excitement at the hope and beauty of adoption. We know they will continue to love us and our new child as we welcome them into the family!

What We're All About
Ben - Ben is an architect - He loves crossword puzzles - He is a DIY-er - He does yoga - He's a Whataburger fanatic Kadee - Kadee was a Speech Pathologist before staying home - She is a small-town Oklahoma girl at heart - She makes awesome homemade ice cream - She loves to read - She always steals food from my plate... Helen - Helen loves to dance & sing - She loves all animals, but her favorites are cats & starfish - Helen has two fish named Pete & Crawley - She is a frequent face-timer with family - Her favorite foods are spaghetti and waffles