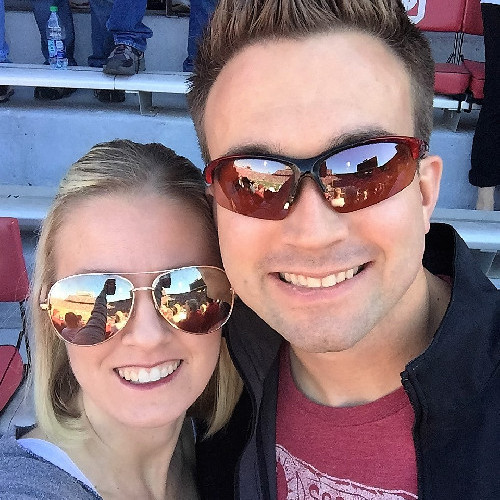 Family Facts
Region:

Southwest

Faith:

Christian

Education:

Graduate Degree
We are Scott and Sarah. Our prayer is that this profile will be a glimpse into our lives, our story, our family. We want you to be able to get to know us, our personalities, our friends and family, and our desire to give your child a loving, caring family. We want you to know that we admire your selflessness, love, and courage and whatever decision you make we pray that you feel supported every step of the way. Thank you for taking time to read our profile and getting to know our family. We are so blessed to begin this adoption journey.

Why Adoption?
Our parental journey has had its challenges along the way; however, these challenges have only strengthened our love for each other, our faith in God, and our deep desire to add to our family. Adoption has been dear to our hearts from the beginning of our marriage. We have always yearned to adopt and are thrilled to have this dream become a reality. The selfless decision you are making will forever change the life of a family, maybe even ours. We cannot begin to understand how difficult this decision must be for you; however, we want you to know that we have the upmost respect for you as you begin the journey of finding the perfect family for your child. Even though we do not know you yet, we, along with our family and friends, have been praying for you and your precious baby for a long time. We want to walk this journey beside you. We want to hear your hopes and dreams for your baby, and we will always strive to provide your child with a supportive, loving, and caring family. Thank you for loving your baby so deeply. We hope to get to meet you, learn about you, and let you see more of who we are.

Get To Know Us
Our story began a little over 15 years ago in high school. We were high school sweethearts, even though we didn't attend the same high school. We met at church and started dating a few months later. We knew we wanted to be together even though college took us in different directions, making us have to live away from each other for a little while. We married when we were 19 and 20 years old. Over the past 11 years we have been loving and living our life together. We have been together through high school, college, starting our dream jobs, graduate degrees, and many other adventures. In 2010, we were blessed with a sweet baby girl, Emma, who had quite the journey in life due to some health issues. In 2017, at almost 7 years old she passed away. She had an amazing life filled with much love and joy despite all of her health issues. She helped shape us as parents and truly taught us how to find joy even in the difficult times. Even though we dearly miss her, our faith in God and our wonderful support system of family and friends is helping us through this journey. Our hearts are ready and open to love a baby, make new memories, and continue special traditions that we started with Emma.It was an honor and blessing to be her parents. The last 11 years has brought us closer together, and deepened our love for each other. We are now ready to embark on a new journey in our lives by adding a precious baby to our family.

Our Home & Community
Our family is our biggest support system. We are truly blessed to have such a close knit family. Our family enjoys going to the lake, attending sporting events, celebrating holidays, singing together, and just spending quality time laughing and having fun together. We are very blessed to live relatively close to our families. This allows us to be able to spend a lot of time together with great grandparents, grandparents, parents, aunts, uncles, cousins, and siblings. Our family is extremely supportive of our decision to adopt. They are so excited and ready to love this new baby. We have an amazing group of friends that live near us and a little distance from us. We consider our friends like family. We raise our children together, attend church together, vacation together, attend events together, and so much more. Our friends are so excited for us as we embark on this new journey. They are ready to welcome this sweet baby with open arms, and are already joining us in praying for you and the baby. Our Home -- We live in a wonderful suburb. We are located near many beautiful parks, lakes, museums, sporting activities, and delicious restaurants. Our nice quiet neighborhood is filled with a diverse population of families. Our family enjoys walking around the neighborhood, taking our dog Max on walks, and playing at the neighborhood park. A home to us is more than four walls with the roof; however, we have worked hard to make our house into the perfect home for our family. We have a kid friendly/kid centered playroom upstairs and a nice big backyard perfect for picnics, playing catch, and running around. We all love to cook and enjoy making memories while cooking and preparing food in the kitchen. In preparation for bringing home a precious baby, we have begun working on the nursery. It brings us so much joy to create the perfect space for the baby. Our hearts and home are ready for this new adventure.

What We're All About
Sarah is a Stay-at-home Mom (former Pre-K teacher & library media specialist) who enjoys singing, reading, traveling, camping, fishing, skiing, and volunteering. Sarah's favorites include: Chocolate, musicals, Sonic vanilla Coke, church life group, University of Oklahoma football, coffee, everything Fall, NCIS, Colorado mountains, and board games. I love to be around family and friends. I love laughing, talking, eating good food, and enjoying life. Scott is a Pharmacist, Director of Clinical Services. He loves: OU Football, Fishing, Golf, Bowling, video games, Dr. Pepper, hanging out with friends, participating in church activities, watching movies, family time, singing, camping, wakeboarding, snow skiing, OU and Thunder Basketball.