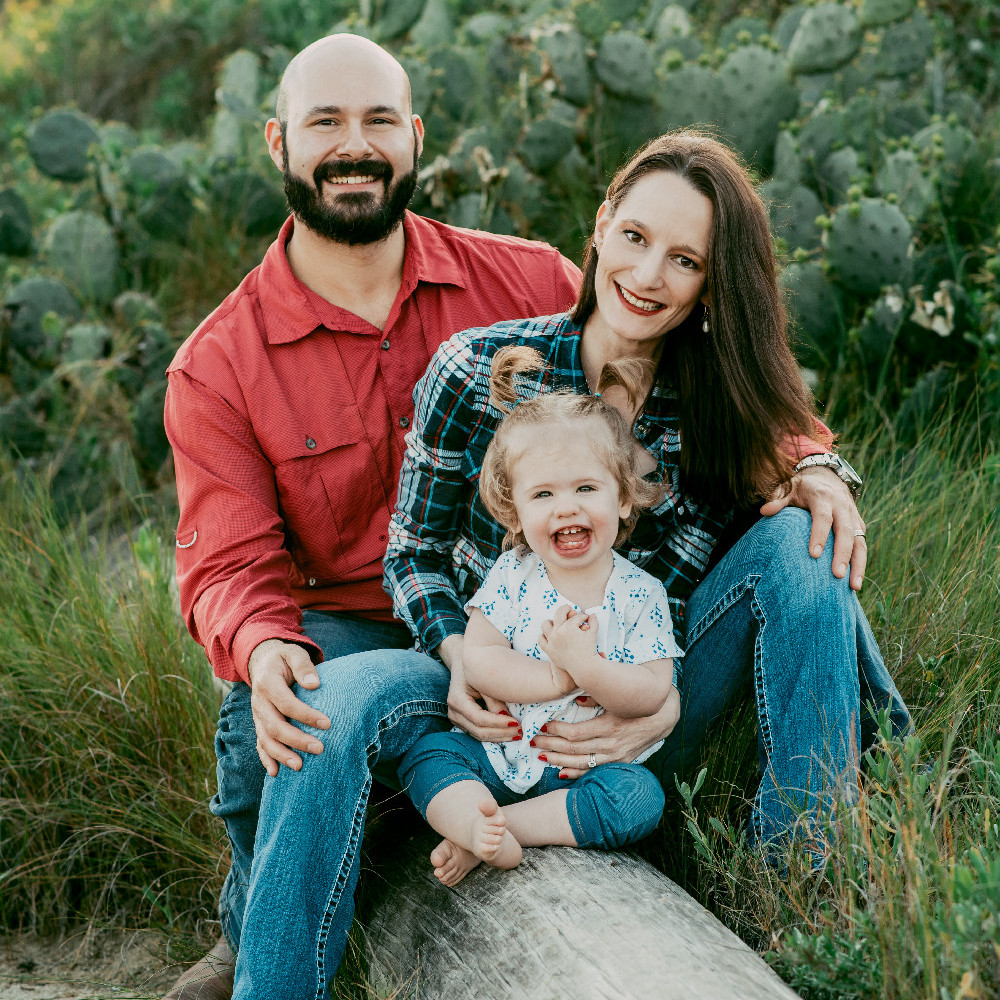 Family Facts
Children:

One Child

Region:

Southwest

Faith:

Catholic

Education:

College Degree
We are a fun, loving, Christian family. Singing and dancing in the kitchen while cleaning and cooking is an every day occurrence in our home. Family is our focus and we take time to enjoy the small pleasures in life. We hope to grow our family even bigger through the amazing act of love that is adoption. We admire you and the love you have displayed in considering adoption for your child. We understand making such a huge decision that will impact yours and your child's life, is not an easy decision to make. We promise to love, laugh with, support, and teach our next child, just as we do Zoe. Together we can give your child a wonderful life.

Why Adoption?
We have always felt a strong pull towards adoption and believe that God has chosen adoption as the path to build our family. Zoe (our daughter) came to us through adoption. Rachel's three oldest siblings were adopted by her father when he married her mother, and one of her nieces was adopted from foster care. Oscar's sister, Keri, was placed for adoption when she was a baby and always had a strong relationship with her adoptive and birth families. We know so many others that have been touched by adoption in some way.

Get To Know Us
We met at work and have been together for over 9 years and are still madly in love with each other. We make a great parenting team, splitting responsibilities and always making sure we have time together as a family. We have enjoyed watching Zoe grow, develop, and learn and can't wait for a second child to love and care for. Zoe is our sweet baby girl! She has a joyous personality and is always happy and smiling. She loves being around people and is very easy going. She will eat anything we put in front of her, loves music, and is fascinated by our two cats. Zoe was born 6 weeks premature and had an intestinal surgery when she was just twenty four hours old. She has come a long way and is very strong. She is eager to learn and develop while meeting milestones. Zoe's calm and tolerant demeanor, along with her loving and friendly spirit, will make her a great older sister.

Our Home & Community
We have a spacious home in a cute subdivision where everyone looks out for everyone else. There are always kids playing outside and we live across the street from a large, 13 acre park that has baseball fields, an outdoor gym, walking track and a playground with a splash pad for hot summer days. We also have great schools in our area that are very close by! We have a big backyard with a large porch. This is our favorite spot to hang out and relax. We enjoy playing in the yard, having fires in our fire pit, and grilling with friends to close out the weekend. Our cats, Ruthie and Cece, are sisters and are inseparable! They each have little quirks and big personalities. Cece is a "scaredy-cat" that runs at the slightest noise, while Ruthie is explorative and daring. They love to cuddle with us during TV time or chase each other around the house. They are friendly with children and love to watch kids play. We love dogs, and all other animals too, and always look forward to playing with the dogs in our extended family.

What We're All About
We are very active family and enjoy being outside, hiking or adventuring. We love taking trips, going to the beach, or sightseeing around a city. Anything with animals attracts our attention, such as zoos or aquariums. Rachel enjoys: Spending time with family, creating art, hiking, attending church, working in the flower gardens, being outside and helping those in need. She also loves botanical gardens, zoos, traveling and taking photographs! Oscar enjoys: Spending time with family, going fishing, hiking, target shooting, kayaking on the lake and bays, keeping up on current world events, and volunteering at various outreaches! We love to do "DIY" projects and other creative activities. Rachel was an art major in college and won "best-in-show" for a sculpture she made. Oscar likes to fix things himself and spends time working on his boat or golf cart. Rachel and Oscar have a "bucket list" and try to plan trips and activities around doing those things.