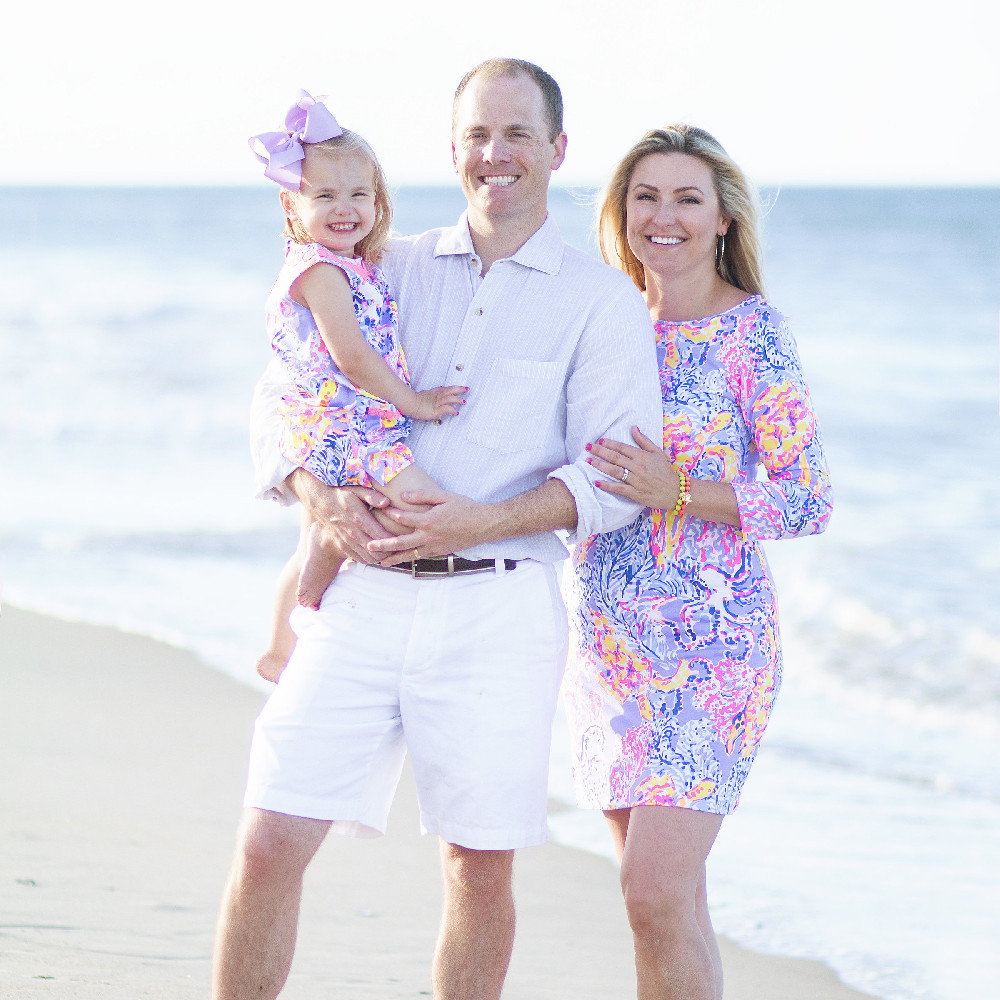 Family Facts
Children:

One Child

Region:

Mid-Atlantic

Faith:

Christian

Education:

College Degree
Thank you for taking some time to learn about us!

David and I have always felt open to adoption because we've seen the beauty of it firsthand! Dory's younger brother and girlfriend made the brave decision as teenagers to put their newborn daughter Grace up for adoption. Her adoptive parents are amazing and even bring Grace to family gatherings, such as Christmas, weddings, and graduations.
Along with our daughter Claire, we are ready to share our many blessings with our next child through the incredible gift of adoption.
Most days, you can find Mom and Dad playing with Claire outside in the backyard, walking to the neighborhood park, and attending all of her extracurricular activities. Claire is definitely ready to be a big sister and tells us so all the time!
We live in a vibrant neighborhood within walking distance to the local elementary school, county park, and spend hours outside with our family dog, Scarlet. Dory grew up one of nine children and David from a smaller family with just one sibling.
Encouragement, faith, trust, and forgiveness and love are central to our family – along with laughter which is a near constant sound in our welcoming home in Richmond, VA!

Thank you again for your extraordinary courage and selfless decision you are making on behalf of your child. We look forward to one day getting to know you!



Why Adoption?
In 2015, we started trying to conceive our second child but didn't realize God had another plan. After eight rounds of fertility treatments (including two miscarriages & one failed in-vitro) our fertility doctor gave us the news that we had already suspected: having more biological kids was no longer possible for us. Claire is incredible and has taught us so much about life, love, and God. We spoil her with love, attention, and yes toys! We have always felt open to growing our family through adoption. Dory has known since childhood that she wanted to adopt in addition to natural birth. After all, she was one of nine children in a Catholic family where babies were the center of attention at all times! We are excited to share our many blessings with our next child including encouragement, love, Christianity, learning, support, financial stability, and FUN!

Get To Know Us
David works in Medical Device sales and spends 4-5 days/week in surgery. A benefit of working 'operating room hours' is that David is home every afternoon in time for family dinner. Without a doubt, connecting around the table is a favorite daily moment! It doesn't hurt that Dory (and Claire) love to cook, bake, and create memories. Dory became a stay at home Mom when Claire was born after working nearly 15 years as a Master Aesthetician (skincare). She loves being a homemaker and is a huge part of Claire's daily life. Every step of the way she's been alongside Claire to with encouragement, support, love, and excitement.

Our Home & Community
We stay busy during the week with trips to the library, Botanic Gardens, preschool, ballet and tumbling. We save the weekends for spontaneous trips to the beach, kids workshops at Home Depot, or swimming at our nearby country club. Our house is walking distance to the local elementary school (award winning and top ranked in Virginia) and Claire loves playing with her friends in the safety of our cul-de-sac and safe neighborhood. Our neighborhood is full of young families who have become some of our closest friends that we hang out with regularly.

What We're All About
Coffee gets us out of bed…just kidding! We are actually early risers, which is great for Claire as she wakes up to already in motion w/ activity and breakfast. As a family, we are most passionate about being together whether at home or traveling to new places. In fact, this spring we are taking our first trip to Disney World and look forward to returning with our next child too! Dory's passion is all things Claire in particular being active at preschool (she is a teacher's assistant aka 'room Mom'). Her hobby is scrapbooking and amazingly completes a new one every 3 months to capture memories from Claire's early years. She looks forward to doing this with her next child too! David's passion is being a devoted father and husband. Fishing with Claire has become a favorite pastime along with walks to the neighborhood park with Dory, Claire, and Scarlet (dog). A couple times a month he tries to squeeze in a bike ride or round of golf. As a family, we are all love to play tennis. It is a sport we can all do together either her at home or on vacation. Otherwise, Dory loves playing the Viola and Claire recently started taking violin lessons at a nearby music school. They love playing together!