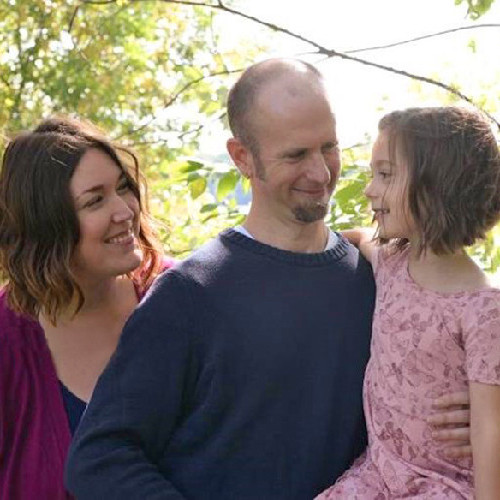 Family Facts
Children:

One Child

Region:

Midwest

Faith:

Christian

Education:

College Degree
Each family is unique. For Misti and I, adoption was always "Plan A". We want our family to include both biological and adoptive children. After welcoming our biological daughter Macie, 4 years ago, we began to educate ourselves on the adoption process, consult with other couples that had already adopted and God opened the door for us to move forward.
We know that choosing to grow our family this way could potentially be lengthy and have bumps-in-the-road. With God, and armed with the knowledge that "Nothing in the world is worth having or worth doing unless it means effort, pain, difficulty…" (Theodore Roosevelt); we're ready for it! We are REALLY excited to grow the family through an open adoption - we want YOU to become a part of our extended family!



Why Adoption?
Misti had a desire to be an adoptive parent long before Adam entered into the picture. Misti has two older brothers that were adopted by her father. So, the concept of adoption and conversations about biological family ties is familiar. Various mission trips and volunteering in an orphanage while living abroad only deepened her desire to adopt. Adam has always had a desire for biological children, but loves all children. In fact, he was a Big Brother mentor for many years and grew very close to his Little Brother. Witnessing this love, was one of the things that made Misti fall for him! Even though we had two different perspectives, God helped unify our vision for our future family early in our marriage. It was through our learning process that we became very passionate about open adoption. We desire our adoptive child to have ties to his or her birth parents and/or extended family and are very open to discussing what this might look like.

Get To Know Us
Adam is a loyal Bears fan (Go Bears!), loves taking photos, playing disc golf and basketball. He makes a really mean quesadilla and is a great cook. He loves his job as a User Experience Designer helping make websites user-friendly. Misti loves to paint, is learning how to sew, enjoys crafting, loves tennis and baking, and treasures her time out with her best friends. She's been a stay-at-home Mom for the last 2 years and truly enjoys it! A lot of her time is spent introducing, teaching and learning new things with our daughter. Macie's in preschool this year and growing into such a loving and generous little girl (she already set aside some toys and books she wants to share with her new sibling)! It's wonderful exposing her to new things and witnessing her excitement; we're busy exploring the big world around us! Growing up in our home, our family's motto is: make mistakes, celebrate successes, extend grace and forgive quickly!

Our Home & Community
Next to our faith, family is one of the most important things in our life! Our home is cozy, our guest bed is often full, and our dining table is often short on elbow room. We adore having family and friends stay with us (no matter how long or short the visit). Our friends are wonderful and we consider them a part of our family. Many of our weekends are spent road-tripping to see Grandma & Grandpa, aunts, uncles and cousins. The cousins truly treasure their time together and we're committed to celebrating birthdays, holidays and other milestones together.

What We're All About
First and foremost, we are passionate about our faith in Jesus Christ. We strive to live out our faith in our every day lives. We truly believe that our actions need to speak louder than our words. Character and values are caught, not taught! We definitely don't do this perfectly! A common phrase in our house is, "I'm sorry; will you forgive me?" Due to a lot of energy invested in our faith and church, we've met some of our closest friends through our church. We spend a lot of our time together barbecuing, going to parks, date swapping, playing games, and sharing meals together. Our friends and both sides of the family are excited for our little family unit to grow. They've been essential supporters of our journey to adoption! There will be no shortage of people committed to loving-on this new little one!