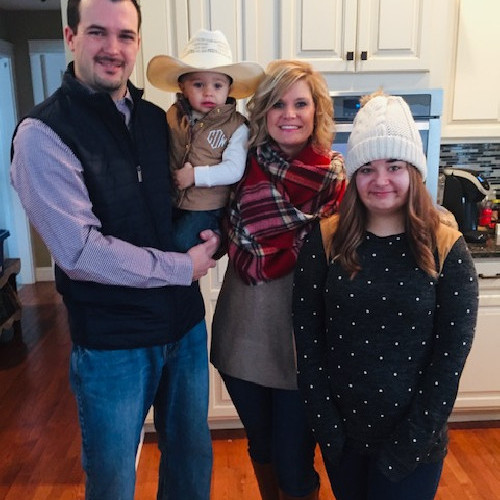 Family Facts
Children:

Two Children

Region:

Midwest

Faith:

Christian

Education:

College Degree
We reside in the small, tight knit community where we were both raised. We are both active with a variety of clubs and boards to help support our youth and town. Our favorite pass time includes spending Friday nights under stadium lights and summer days lounging by our pool. As members of Chiefs Kingdom Sunday's in the fall consist of food, family, friends and football!!

Why Adoption?
We have both had experiences in our lives that have shown us the love that can come from a child being placed in their 'forever home.' When we decided to expand our family, the idea of adopting came very natural to us. We have family members who have either been adopted or have adopted themselves, showing us that the love between a child and a parent does not have to be biological. We can only hope to provide a child with the same type of love that we have seen others provide for a child.

Get To Know Us
Shalena works as a manger in Human Resource Department for a global manufacturing and technology company in the neighboring town. Justin is a insurance agent at the agency that his father started 30 years ago and plans to keep the business going for years to come. In our downtime, we enjoying going camping with many of our friends and family, having lazy summer days by the pools, and traveling to new destinations while creating memories along the way. Our most favorite thing to do is hosting family and friends for sporting events throughout the year.

Our Home & Community
We built our forever home three years ago on a few acres just outside of city limits. We enjoy the peace and quiet of country living. Our hometown is small consisting of only about 4k people. We attend several community events throughout the year that bring us all together. It's not unusual to see the majority of the town on a Friday night cheering on the football team, packing the gym in the winter supporting our basketball teams or gathering at the town gazebo listing to the local karaoke band playing while everyone dances in the street.

What We're All About
We love to live life to it's fullest each and every day. Although we both have a desire to be successful in our career paths, the best part of our day, and what keeps us striving for bigger and better, is coming home to a peaceful evening with our two kids and two dogs. We are excited to see what the next chapter of our lives reveal. We are hopeful that we will be blessed with another child to love and care for as our very own.