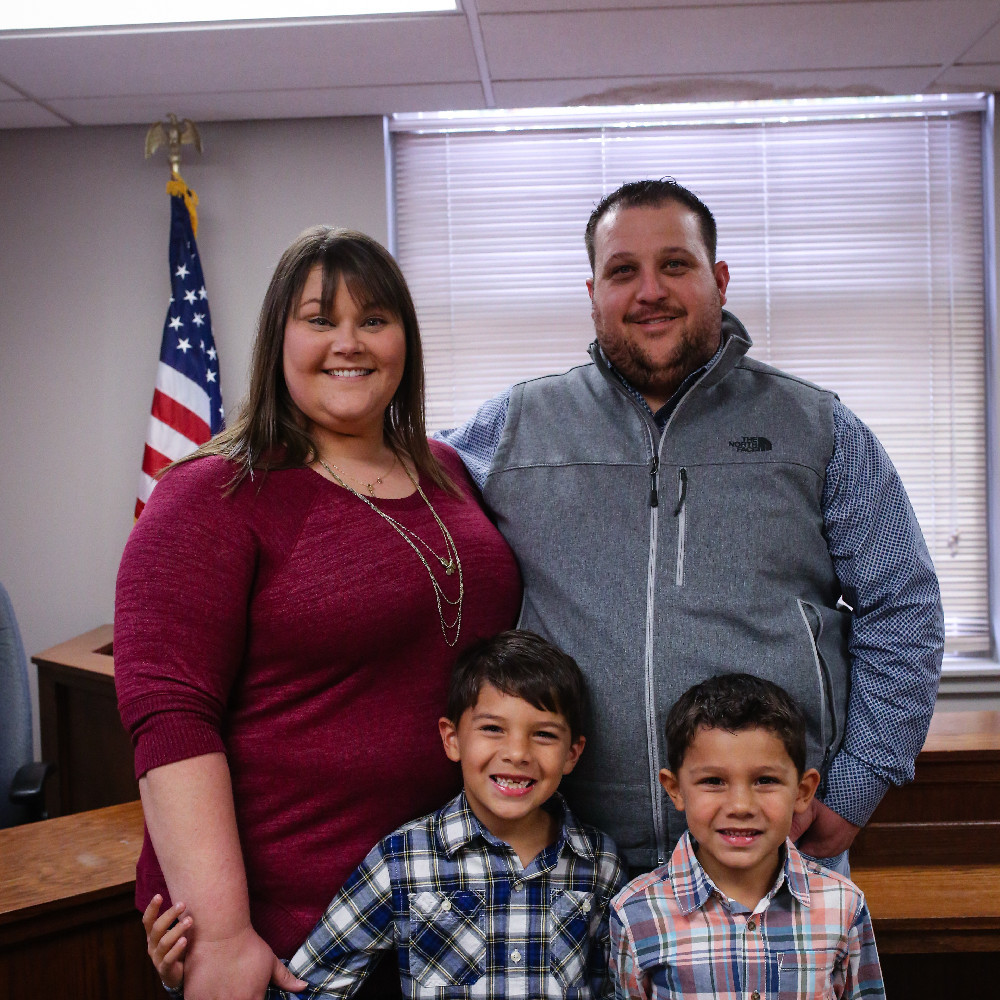 Family Facts
Children:

Two Children

Region:

Southwest

Faith:

Christian

Education:

College Degree
Please know that we will give your child a home and life filled with love and happiness. You must be an incredibly brave, wonderfully loving and generous person to make the decision you are making, and we will teach that to your child from the very start. We are fortunate in having supportive, loving, and fun families that would welcome with open arms your child into our family. We are forever grateful that you are considering us to follow this path with you and your child.

Deann's family lives about an hour away from us and we visit often. A typical summer weekend consists of swimming at her parents pool, grilling out, going to church, hunting or fishing, and helping her dad feed the animals. We always have so much fun together.

We love to travel and have so much fun traveling as a family. We enjoy visiting historical and educational places. Since Joseph and Jesse have lived with us we have gone to the beach and to the mountains. We can't wait to keep exploring new places with them and a new baby. We love teaching them through real life experiences. We feel fortunate to have seen such beautiful and interesting places in our life and so look forward to sharing our love of travel with all of our children. We look forward to seeing some amazing places through our childrens' eyes.

Why Adoption?
We have always known that we wanted a large family however that may come to us. We tried to get pregnant, went through some fertility options and decided that adoption was the best choice for our family. We fostered Jesse & Joseph for about a year before we officially became a family. We have loved every moment of being their parents. We have all become so close over the past two years and the boys are so ready for a younger sibling. We know that God has called us to adopt these two precious boys and we cannot wait to meet our next child.

Get To Know Us
We met in February 2010 on a blind date set up by a mutual friend. We knew early on we'd end up together, and after two years of dating were married May 2012. Joseph and Jesse joined our clan in September 2016 and we officially adopted them November 2017. We can honestly say the last two years with them have been the most enjoyable years of our marriage. We love being parents and raising our family together. We have a dog named Tate who you will see pop in pictures. He is very friendly and loves to give everyone kisses. We both come from families that have a lot of love for one another and knew that we wanted a large family to share that love with. Family is extremely important to us, and we can't wait to add another child to ours. We love our little family and know we have plenty of love and room for more! Josh is a perfect dad! He is always up for adventure and makes life fun. He is the funniest person I know, always making everyone laugh. He enjoys joking with our sons and getting to act like a kid again. He is a kind, thoughtful, generous person. He's "that guy" that would give another person the shirt off his back, he is so passionate about helping others. Josh is also very passionate about his job. He works in sales and has for the past 2 years. He is loyal, hard-working and a great provider. He loves our family and is deeply invested in our lives. He adores our sons and makes them a top priority. He spends a lot of time playing catch, coaching baseball, building legos and teaching the boys to hunt. Josh is definitely just a big kid at heart. Josh is a youth leader at our church and the youth group love him. It has been amazing watching Josh become a daddy and watching him love these boys to the fullest, he has such a big heart to welcome many more children. We are all very blessed to have him in our lives. Deann is the most loving and caring person that I know. Every morning that I wake up next to her I know it is going to be an amazing day, she is the love of my life and the peanut butter to my jelly. Deann is everything you could ask for in a mother she is loving, nurturing, compassionate and even stern when needed. It has been amazing watching her with our sons, how she is helping them learn new things every day from tying shoes to arts and crafts and the love that she has for reading. Deann loves to volunteer her time whether it be at a camp for disabled teens or relay for life that means so much to her. She is a pediatric nurse so she works with kids every day and I have never seen anyone that loves children more than Deann does. I know firsthand that you could not ask for a better mother for your child. I hope this gives you a small idea of the most amazing woman in the world that I so luckily get to call my wife!

Our Home & Community
We can't wait to welcome a little one into our home. We live in a family-friendly neighborhood in Texas. We have top notch schools within a few minutes drive from our house. We are a few miles from a hospital and doctor office. We live in a small city and there are a lot of opportunities to join children's recreational programs and sports teams. Joseph and Jesse love playing sports, and there are several opportunities for sports and several other activities. We just moved into this home and are so excited about it. We have a bigger house and more land for the kids to run, play, and act like kids. We can't wait to bring a child into our neighborhood, there are always kids playing outside. Deann's family also lives on several acres just an hour drive away that we visit frequently. We have one unused bedroom that we are starting to get a baby's room ready. We are decorating in yellow, gray & navy blue, which we feel is gender neutral. I have made some adorable giraffes that will be hung on the wall above the crib. We are so excited to welcome a baby into our home. We are blessed to have an amazing community of people in our lives. Our friends and family are all thrilled that we are adopting again and can't wait to welcome home the next child God has for us. We are a part of an incredible church community, where Josh is a youth leader, and where the majority of our friends attend. We have found a community of amazing friends who we enjoy raising our children alongside of each other. We both enjoy volunteering in our community. We hope to instill a servants heart into your child, as we are doing with Joseph & Jesse. We hope your child will understand why we love to volunteer and how we can help others. We have both been on a Relay for Life team helping to raise money for the American Cancer Society. We have helped our team raise several of tens of thousands of dollars. Jesse & Joseph are right beside us for majority of our volunteer jobs, car washes, rummage sales and relay for life. We hope to continue to teach the importance of helping others, being a Christian and to become a part of our community.

What We're All About
Joseph is our happy 8 year old! He is full of energy and fun and he brings so much joy to our family. He has such a kind and sensitive heart. He loves to draw and is quite talented at it. He also loves to read unlike many boys his age. His favorite thing to do is to play sports, especially baseball and football. If he could choose I think he would live on almond butter and jelly sandwiches and chips for the rest of his life. Joseph is such a great role model for his little brother already and I know that he will be so great with a new baby. He is protective and makes sure Jesse is always having fun. He is so excited to bring a baby into our house, he already talks about how much he will help out and can read to the baby. Jesse is our little 6 year old ball of energy. He is our snuggler, he loves being close to us and always ready for hugs and kisses. He loves his friends with all of his heart and just lives to play with them. He loves to play t-ball with his team mates. Jesse loves to help in the kitchen, baking is his favorite, especially when he gets to do a taste test. It is so fun watching him learn to read, write, do addition and become a smart little boy. If he could choose I think he would live on chicken strips and mashed potatoes for the rest of his life. He is so excited to be a big brother, he tells everyone that he is going to be a big brother all the time. He already talks about how much he will teach the baby to sing new songs. We will always strive to be the best parents that we can possibly be. We promise that your child will come into a home filled with love and laughter, and we promise that your child will grow up surrounded by a large and loving family. We hope that you will find peace and comfort about your decision. Thank you so much for taking the time to consider us.